Dogecoin price continued its bearish trend as investors reacted to the collapse of Tesla stock. DOGE plunged to a low of $0.070, the lowest level since October 26. It has crashed by more than 55% from the highest point in November and by 60% in 2022.
Tesla stock price has crashed
Dogecoin is the biggest meme crypto in the world. It gained its popularity after getting endorsed by Elon Musk, the founder of Tesla and SpaceX. At the time, he was slowly rising the billionaire ranking that propelled him to become the richest person on earth.
Elon Musk owns an unspecified amount of Dogecoin and has expressed his desire to help its developers behind the scenes. However, recently, things have gone downwards for him. According to Bloomberg, his net worth has plunged by more than $140 billion. He has also become the second-richest person after Bernand Arnault. He will soon be overtaken by India's Gautam Adani.
Find out how to buy Dogecoin.
This performance happened as the Tesla stock price plunged this year. It has fallen by more than 74% in 2022, meaning that Dogecoin has done better than it. Tesla shares plunged as investors remained concerned about its valuation, rising competition from the likes of Nio, Ford, and GM.
Further, the stock plunged because of Elon Musk's recent acquisition of Twitter. At the time, some analysts believed that the deal would become positive for DOGE prices. However, his buyout has been tumultuous at best. Twitter has lost a bunch of advertisers and fired thousands of workers. Therefore, it is highly unlikely that Twitter will integrate Dogecoin in its ecosystem.
At the same time, there is a likelihood that Musk will start selling his Dogecoin holdings. He was forced to take loans worth billions of dollars to fund his Twitter buyout. Also, he has been selling Twitter shares recently. Still, it is unclear how much DOGE coins he owns.
Dogecoin price prediction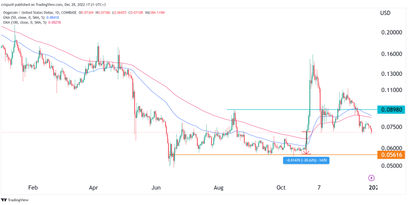 The daily chart shows that DOGE price has been in a strong bearish trend in the past few months. Most recently, the 50-day and 100-day moving averages are about to make a bearish crossover pattern. It has also moved below the important resistance point at $0.089, which was the highest point on August 17.
The current price is important because it was the lowest point on November 10 and 21. Therefore, a drop below this level will be a bearish sign. If this happens, the next level to watch will be at $0.056.