Litecoin price has pulled back in the past few days as investors continue waiting for the next catalyst. The LTC/USD price was trading at 53, which was about 10% above the lowest level last week. This price is about 22% below the highest point last month.
Low volume and volatility
Litecoin is one of the oldest cryptocurrencies. It was developed to become the best alternative to Bitcoin, the biggest coin in the world. As such, Litecoin has similar mechanics to BT. For example, the two are proof-of-work (PoW) coins that were created to facilitate payments.
Therefore, in most periods, Litecoin tends to have a close correlation with Bitcoin. Historically, its price rises when BTC rises and vice versa. This explains why LTC has been in a consolidation phase in the past few months.
Litecoin, like Bitcoin, is going through a period of low volume since prices have remained in a tight range. Data compiled by CoinMarketCap shows that the daily volume of Litecoin traded rose by more than 36.15% in the past 24 hours to $411 million. At its peak, Litecoin had daily volumes of over billions of dollars.
Learn more about how to buy Litecoin.
Meanwhile, volatility has also crashed in the past few months. Its historical volatility has crashed to the lowest level since August 3rd of 2021. The Average True Range (ATR), which is another measure of volatility has crashed hard in the past few months.
Therefore, a combination of low volume and volatility can be a bad sign for Litecoin prices. Historically, major plunges have occurred in periods when the two are increasingly under intense pressure.
However, a key potential catalyst for LTC is the fact that the Fed may be considering going slow on rate increases. The bank is expected to hike by 75 basis points in November followed by a smaller increase in December.
Read more about the best cryptocurrency apps.
Litecoin price prediction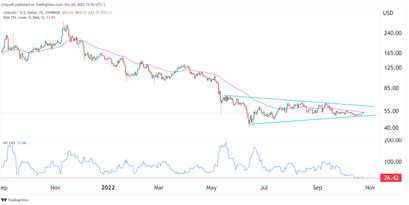 The daily chart shows that the LTC price has been in a consolidation phase in the past few months. Along the way, it formed a symmetrical triangle pattern that is shown in green. It has also moved slightly below the 50-day moving average while the Implied Volatility indicator has dropped to the lowest level in more than a year.
Therefore, with the triangle pattern nearing its confluence, there is a likelihood that the coin will soon have a breakout. A bearish breakout will be confirmed if it moves below the key support at $48 on high volume.