The summer of 2022 has been dominated by a debilitating cryptocurrency crash. When Consumer Price Index (CPI) announced that inflation was 8.6%, investors began withdrawing their money. First, the stock markets felt the impact as circulation started dwindling. The cryptocurrency was next in the queue; the market capitalization fell by more than two trillion dollars in a few days. How can an industry possibly sustain itself in the aftermath of a shocking slump? We will assess the market's position by looking into three cryptocurrencies: Solana, Shiba Inu, and Dogeliens (DOGET).
Solana (SOL)
First up is Solana, the ninth-biggest cryptocurrency on the market. SOL has a market cap of 16.9 billion and a token price of 33.2 dollars. In the last twenty-four hours, both figures have augmented by 4.5%. Likewise, Solana's trading volume is up 61% to 696 million. Otherwise, SOL is a flexible, open-source platform that utilizes blockchain's permissionless attribute to provide decentralized finance (DeFi) options. The idea was formulated in 2017 but it wasn't until 2020 that Solana was officially launched by Solana Foundation in Switzerland.
SOL's primary objective is to support the development of decentralized applications (dApps). Solana's unique attribute is it combines a proof-of-stake (PoS) consensus with a proof-of-history protocol. The merger enables the platform to enhance scalability. In addition, Solana's infrastructure has attracted the attention of independent traders and large-scale enterprises. The approach is in line with SOL's purpose, which is to make DeFi solutions accessible to the masses.
Shiba Inu (SHIB)
Shiba Inu is another high-ranking token, like Solana. SHIB is in 13th place with a market cap of 7.5 billion and a token price of 0.0000127 dollars. Both values have increased by 1.6% compared to yesterday. Shiba Inu's trading volume stands at 379 million, a considerable drop of 34.8%. Moreover, SHIB is a meme cryptocurrency. Dogecoin started the trend of meme tokens, and Shiba Inu was initially called the "Dogecoin Killer" by the media upon release. Like DOGE, SHIB bears the image of a dog on its symbol.
Shiba Inu is listed on its resident decentralized exchange (DEX) called ShibaSwap. SHIB was designed in 2020 by an individual operating under the pseudonym "Ryoshi." Following its launch, Shiba Inu garnered lots of attention from traders and the mainstream media. SHIB has inspired several copycats, such as Shiba Fantom, King Shiba, Captain Shibarrow, and SpookyShiba.
Dogeliens (DOGET)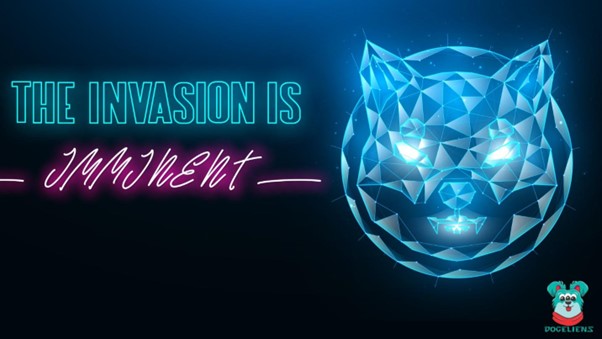 Shiba Inu boasts a legion of imitators. Yet another meme cryptocurrency scheduled for release is Dogeliens. The makers of DOGET are ambitious and aspire to create a community focused on helping others. Dogeliens will operate through a democratic voting system. A charity wallet will be utilized so token holders can vote to determine the charity of their choice. The designated charity will receive weekly donations. Changes to the platform will be made based on the votes of DOGET holders.
Moreover, Dogeliens has positioned itself to be a part of the metaverse. The makers of DOGET believe that the pup invasion is imminent. The Dogeliens team wants to provide cryptocurrency users with an interesting alternative to Dogecoin and Shiba Inu; they also want to add to their legacy.
Most of the key performance indicators of Solana and Shiba Inu are up, which bodes well for new tokens like Dogeliens. If you want to purchase DOGET tokens, you start by creating a wallet, used to store your tokens. Once the wallet is ready, you can fund it by accessing Pancakeswap.finance and buying tokens. You can also select the import option and trade BSC for DOGET.
Dogeliens' total supply will be 25,000,000,000. 30% will be allocated to presale as "treats." 35% will go to P2E development, 15% to University of Barkington content and the remaining 20% will be kept for liquidity. Furthermore, DOGET has an above-average 10% bonus for early adopters who invest in stage 1 of the presale. If you convince an acquaintance to spend two fifty dollars, you and your friend will get a fifty-dollar reward.
For more information about Dogeliens (DOGET), please visit the following links:
Presale: https://ufo.dogeliens.io
Website: http://dogeliens.io/
Telegram: https://t.me/DogeliensOfficial
Disclaimer: This is a paid release. The statements, views and opinions expressed in this column are solely those of the content provider and do not necessarily represent those of NewsBTC. NewsBTC does not guarantee the accuracy or timeliness of information available in such content. Do your research and invest at your own risk.