Terra Luna price has unraveled again following its recent surge. LUNA crashed to a low of $2.6 on Wednesday, which was about 66% below last week's high of $7.6. Other affiliated cryptocurrencies like Terra Luna Classic, Anchor Protocol's ANC, and Mirror Protocol's MIR have all crashed as well.
Do Kwon legal trouble
Terra is a blockchain project that was started by a team led by Do Kwon, a South Korean software engineer. It first gained popularity in South Korea, where it was used to build Chai, a popular money transfer application.
After that, Terra became more popular after the launch of Anchor Protocol, a digital 'bank' that provided exciting returns to investors. Anchor used Terra USD, the platform's stablecoin to provide users with super-sized returns of almost 20%.
As a result, Anchor Protocol's total value locked (TVL) surged to more than $20 billion, making it one of the biggest DeFI protocols in the world.
After Terra's implosion in May, Do Kwon and his team decided to revive the project by launching Terra 2.0. The original Terra was transitioned to Terra Classic.
Terra Luna price went parabolic recently as investors bought the dip. As I wrote at the time, this rebound had all the hallmarks of a pump and dump scheme. This is one reason why Terra Luna has crashed hard recently.
Another reason for this is that Do Kwon is now on the run. South Korean prosecutors allege that the tech mogul left the country for Singapore. Singapore, on the other hand, says that Kwon is no longer in the country.
As a result, South Korea has revoked his passport and placed him in a red alert, which could see him arrested by Interpol. Historically, investors tend to dump assets whose key stakeholders are being investigated by authorities.
Terra Luna price prediction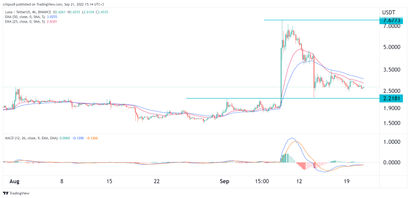 The four-hour chart shows that Luna price rose to a high of $7.67 on September 9 of this year. It then pulled back and reached a low of $2.21 on September 14. The coin has now moved below the 25-day and 50-day moving averages while the MACD has been below the neutral point.
Therefore, there is a likelihood that the coin will continue falling as sellers target the next key support at $2.218, which is about 15% below the current level. A break below that level will see the coin crash to the next key support level at $1.50.