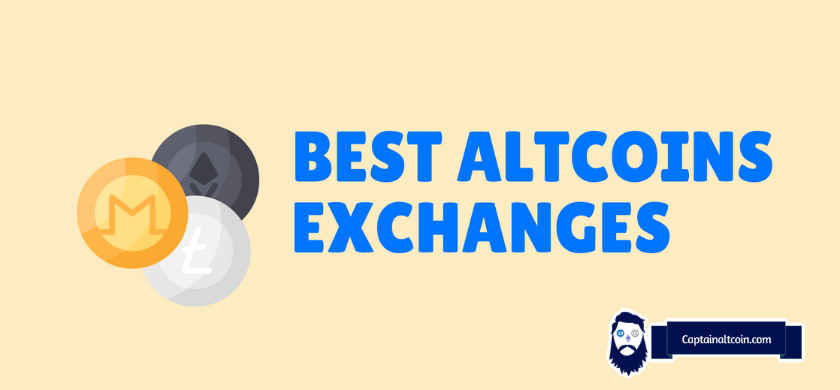 Nowadays, crypto traders have hundreds of different platforms to choose from when buying, selling, and storing cryptocurrencies. However, just picking one out randomly doesn't cut it – you have to spend some time researching them to figure out which offer the best perks in terms of fees, security, and advanced features.
If you're short on time and can't spend hours researching the best altcoins exchange, then you've come to the right place.
In this article, we will walk you through what altcoin exchanges are, list some of the best ones, and review each one of them separately.
Top 8 Altcoin Exchanges: Most Trusted Crypto Platforms
---
After spending hours doing research, we have created this list of the most trusted crypto platforms that you should try out for trading altcoins.
These are the top 8 altcoin exchanges.
Binance – Deepest Liquidity
---
Launched in 2017, Binance is one of the world's largest and most popular altcoin exchanges.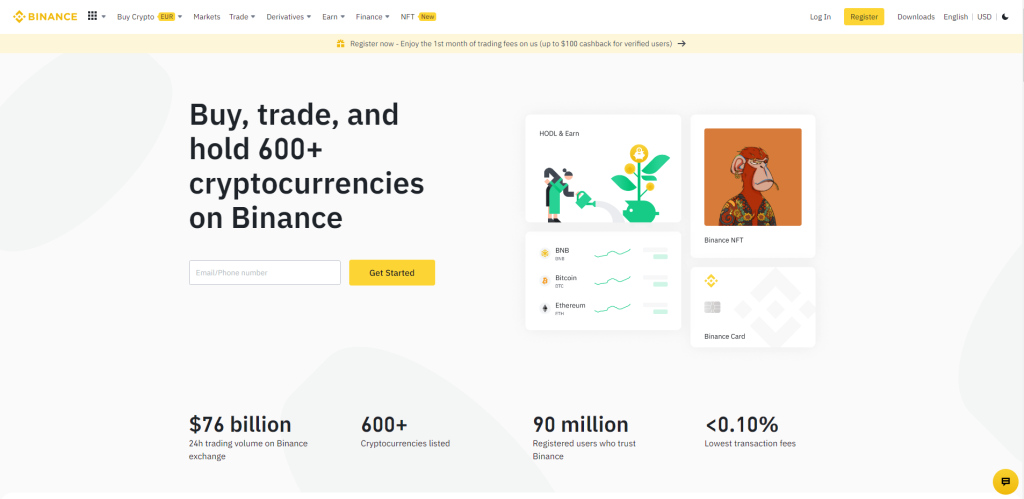 It includes a wide range of trading options and features, but be careful if you are a beginner since this means the learning curve is pretty steep. There is a phenomenal selection of market charts and over 300 different cryptos supported on the platform.
Additionally, Binance also supports a variety of fiat currencies and offers cryptocurrency pairs depending on your location.
In terms of trading options, some of the most notable are futures trading, staking, multiple order types, and an advanced technical analysis tool.
Binance has one of the lowest fees in the industry and even though US citizens are charged a bit more (on Binance.US), it's still a lot lower compared to other exchanges.
There is a maker/taker fee structure incorporated, while the fees are based on the investor's overall trading volume and BNB balance. The higher the trade volume, the lower the fees. Also, the fees can vary depending on the payment method you choose.
For storage, you can use the platform's decentralized wallet called "Trust". Through this wallet, you will also gain access to decentralized apps (DApps) like Pancakeswap.
Although, if you are still a beginner, we recommend you store your altcoins in the Binance web wallet since it is secured by 2FA (two-factor authentication) and IP address whitelisting (logging in from a new location prompts additional security checks).
Uphold – Regulated and Insured
---
Uphold is a cryptocurrency exchange launched in 2015 and it has users from over 180 countries worldwide.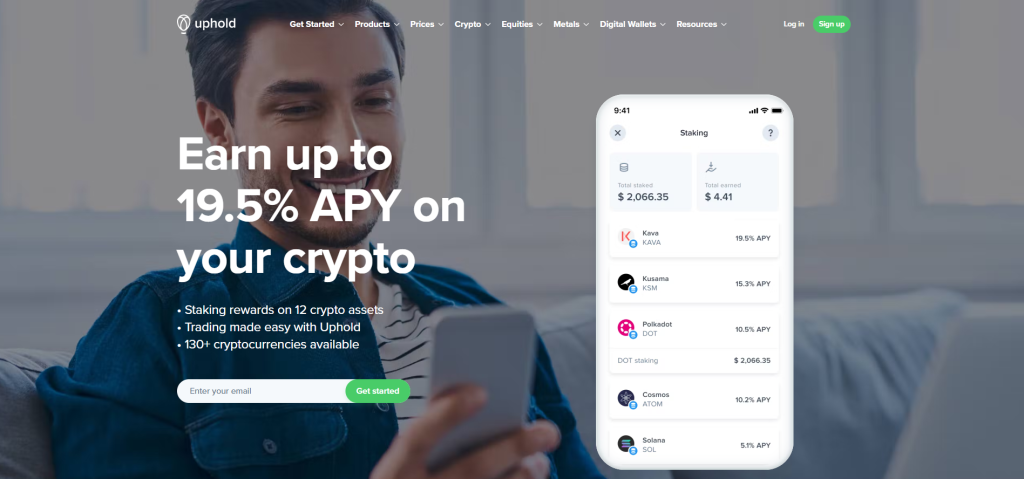 This platform provides users with a wide range of financial products, services, and advanced features. There are currently 100+ cryptos supported, alongside other assets.
The fee structure is a bit different compared to other platforms since there aren't any commissions, deposit fees, or maker/taker fees. Instead, the exchange charges spread fees.
Sometimes, spread fees will be a lot higher than what you would pay on other platforms, but it's a useful system in case you are planning on investing bigger sums.
One of the main things that set Uphold apart is the fact that users can also buy US equities and precious metals on the platform, aside from altcoins. You can easily trade between currencies, without having to convert assets to cash.
As we said, there are over 100+ cryptos supported, including some of the most popular altcoins such as Bitcoin, Ethereum, and Ripple. Unlike Binance, the interface on Uphold is very user-friendly, which makes altcoin trading much more suitable for beginners. Anyone can navigate easily through the platform.
The security measures follow the industry standard – there is mandatory KYC verification and 2FA to protect users from scammers.
Kraken – Regulated and Insured
---
Founded in 2011, Kraken is one of the oldest altcoin exchanges in the world.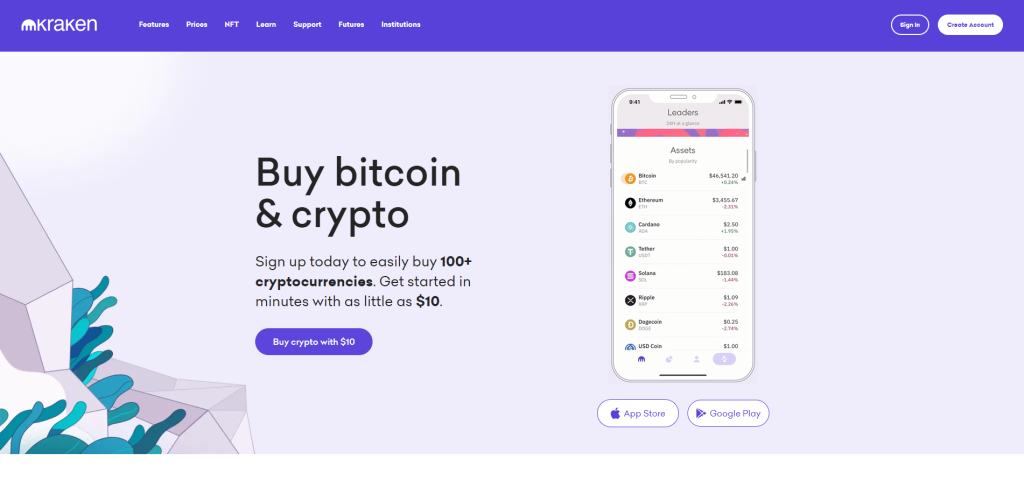 On the platform, users can buy, sell, and store more than 100 cryptos, while also enjoying the low fees and advanced features like the Kraken Pro.
Since it was launched over a decade ago, Kraken was one of the first platforms that early crypto investors used for trading, and to this day, it holds its reputation for being extremely safe and professional.
There are two platforms within Kraken – the main trading platform and the advanced platform called Kraken Pro.
In the Kraken Pro platform, users can take advantage of customizable chart analysis tools, dozen order types, fast trade execution, and order book insights.
Apart from spot trading, Kraken also offers margin trading and crypto derivative trading. The fees on Kraken's main platform are a bit higher (up to 1.5%), but on Kraken Pro, they are highly competitive.
One of the main downsides of Kraken is that there are a limited number of payment methods. To be precise, only wire transfers can be used for funding.
With robust features and advanced order types, Kraken is one of the best exchanges for experienced altcoin traders.
KuCoin – Low Cap Gems
---
KuCoin is one of the largest global altcoin exchanges when it comes to trading volume, and it currently has more than 10 million active users from over 200 countries.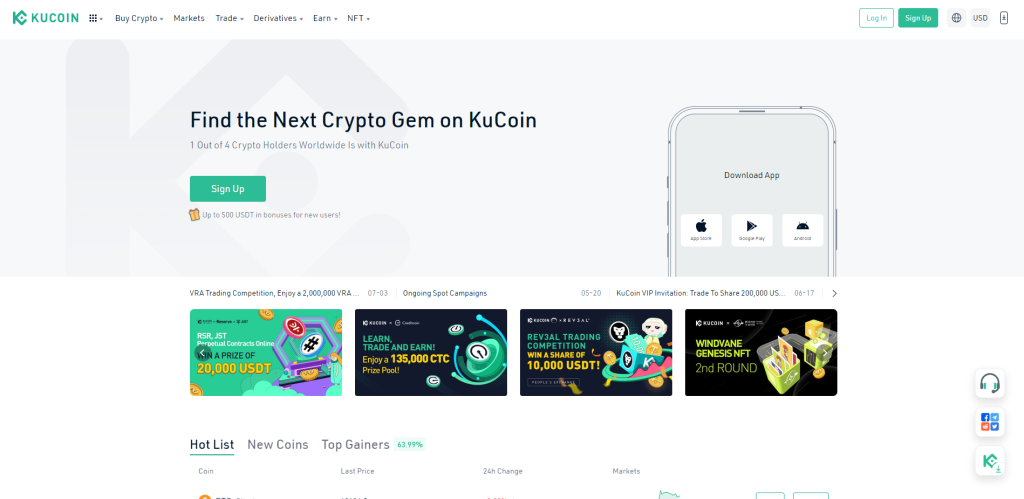 However, US citizens have limited access to the features because the platform isn't licensed to operate in America. This means you should be careful when signing up for an account, if the regulatory institutions decide to shut down KuCoin, you might not be able to make withdrawals.
Aside from the basic trading tools, investors can also use margin, futures, and P2P (peer-to-peer) trading features. Also, the platform offers staking and crypto lending rewards.
With more than 600 supported cryptos, KuCoin has one of the largest altcoin collections in the world, which is great for traders who want to invest in some of the less-known coins.
There is a maker/taker fee system, while the trading fees are somewhere around 0.0125% and 0.1%, depending on the trader's tier level. This is a lot lower than the industry standard of around 0.5% per trade.
Additionally, users can get trading fee discounts for holding KuCoin Token (KCS) in their crypto portfolios.
Even though the security features are solid and there is KYC verification, KuCoin went through a major hack attack in late 2020. Hackers stole almost $300 million worth of cryptocurrencies from trader wallets, but the assets were covered by an insurance fund.
Still, this might be cause for some concern, so be careful how you store your digital assets on the platform.
ByBit – Derivative Trading
---
ByBit is one of the world's most popular crypto derivatives exchange platforms. It has some of the finest advanced trading options, high-quality security measures, and extremely fast transactions.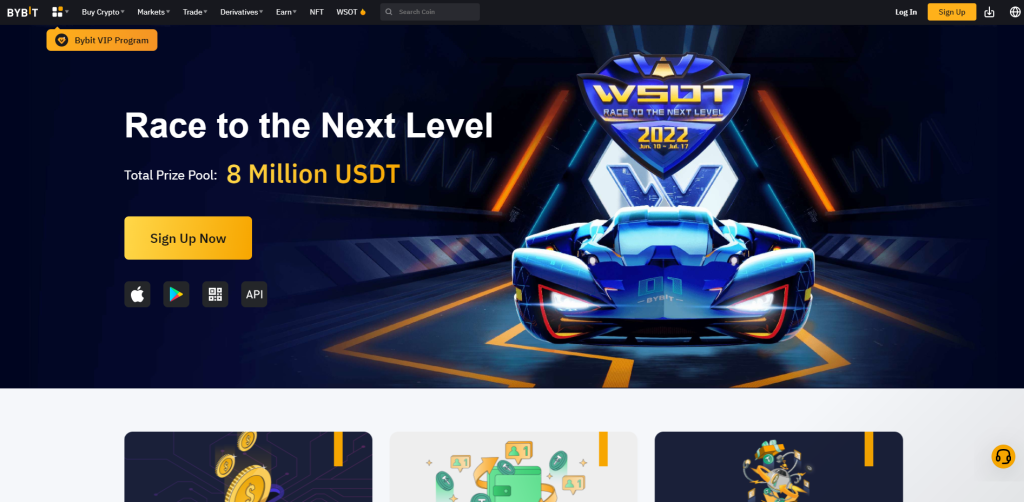 In essence, ByBit is a platform where you can buy and sell contracts (derivative trading).
You can trade altcoins on the platform with up to 100x leverage, which means you can create a $1,000 position with a $10 investment. This type of trading can bring experienced investors some huge profits since it enhances the potential rewards, but it also carries much more risk.
At the time of writing, there are 15 supported altcoins that users can long or short, but the founders have announced that more will be released soon. ByBit can make around 100,000 transactions per second, which is something that no other platform in the industry can match.
It also has a great strategy in place to prevent server downtime from occurring when there are a lot of users making trades at the same time.
There are some great advanced features included, with charting tools being the most popular. However, this exchange is not supported in the United States or the UK since they have very strict regulations about derivative trading.
FTX – Low Fees
---
FTX is a centralized altcoin exchange that was launched in 2019 in the Bahamas and it currently has a value of over $18 billion.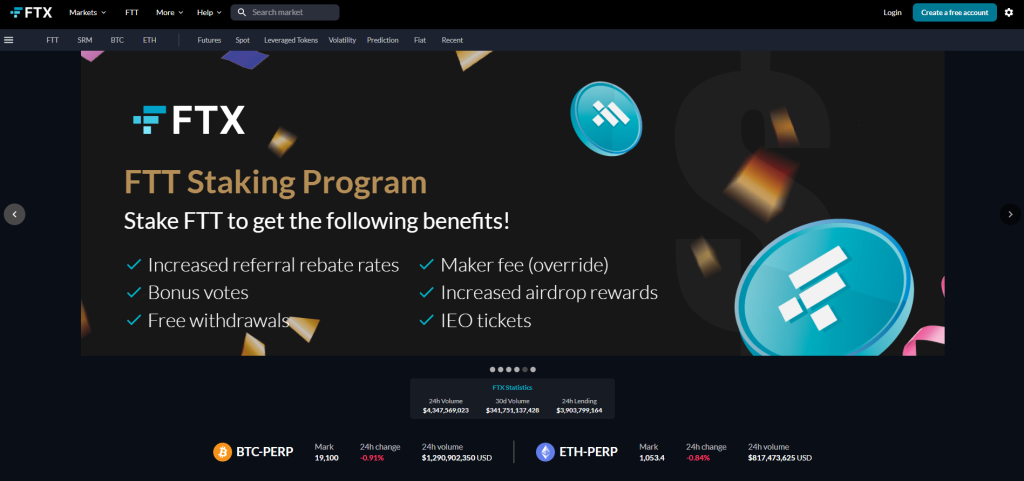 This platform stands out from its competitors through innovative features such as derivatives trading, options, and leveraged coins. Also, it has one of the biggest crypto collections, with more than 300 coins supported.
Traders of all levels can find something interesting on the platform. For instance, beginners might be interested in the spot trading features, while experienced traders can use futures, stocks, and leveraged trading.
There is a maker/taker fee system incorporated, while the trading fees depend on your monthly trading volumes. Those who hold FTT tokens in their balances can acquire a discount on trading fees.
FTX has one of the best security systems in the industry, some of the safety measures include custom-built hot and cold wallets, external backing of hot wallet funds, two-factor authentication, and much more.
Coinbase – Easy to Use
---
Founded in 2012 and having one of the largest user bases in the world, Coinbase was considered the world's greatest altcoin exchange for a long time.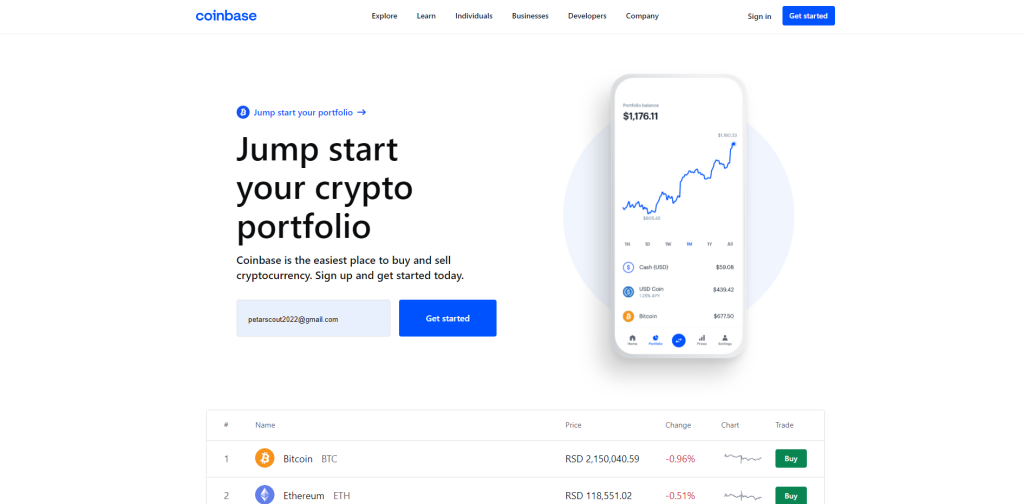 While it was first created for trading solely Bitcoin, the platform vastly evolved over time and it now supports over 150 currencies and has a total market value of more than $36 billion.
Some of the main features of Coinbase are its user-friendly interface, cutting-edge security, and a variety of advanced trading tools.
However, one of the main advantages of Coinbase is the abundance of educational resources. There are hundreds of videos and how-to guides created specifically for beginner and amateur traders to help them learn all the basics of crypto investing.
Coinbase stores USD balances in the FDIC (Federal Deposit Insurance Corporation) insured bank accounts, so the digital funds can be safe in case any type of security breach occurs.
There is a wide range of payment methods, including credit/debit cards, bank transfers, wire transfers, and ACH transfers.
One of the main downsides of Coinbase is that the fees are relatively high compared to other altcoin exchanges. They range from 0% to 0.6%, depending on the user's trade volume. Also, users have reported having problems with customer support on several occasions.
However, even despite these issues, Coinbase is definitely worth considering when choosing an altcoin exchange.
Phemex – Free to Trade with Premium Account
---
Phemex is an altcoin exchange founded in 2019 and it works as a full-service platform.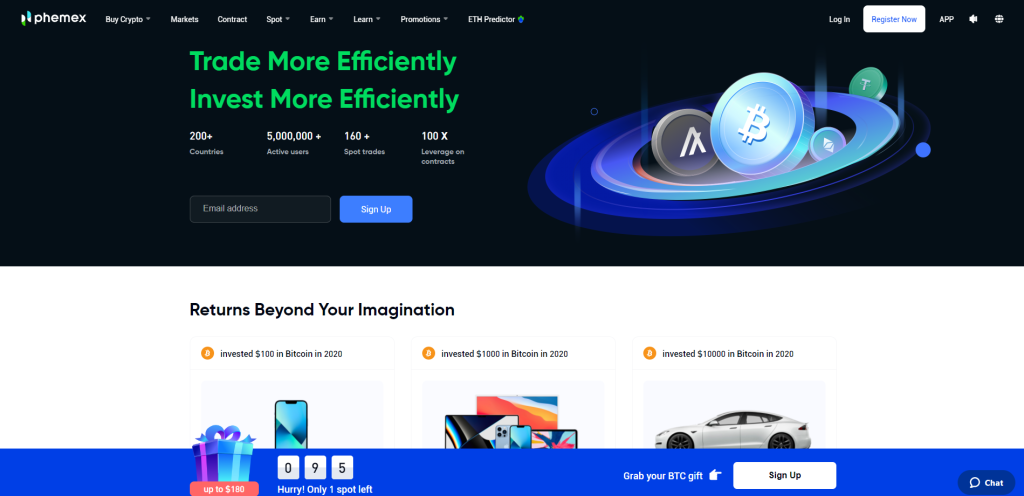 This exchange offers leveraged trading up to 100x your initial investment and it even has a practice feature where you can learn how to do it.
You can use the Phemex Testnet Platform to learn leveraged trading by making investments with fake funds. The altcoins that you can use for practice include Bitcoin, Ethereum, XRP, and Cardano.
However, Phemex's most notable benefit is that it allows free trading to users that have a premium account.
To be precise, premium members can enjoy free transactions on real-time spot trading and futures trading.
What is an Altcoin Exchange?
---
An altcoin crypto exchange is a platform where you can buy, sell, and store different altcoins. While some altcoin exchanges only list Bitcoin, the vast majority of them include other currencies as well.
Currently, there are more than 15,000 altcoins in circulation, but you will only find a few hundred of them listed on the largest and most popular exchanges.
This is because most of these altcoins have a small market cap and aren't that interesting to experienced crypto investors.
You can access altcoin exchange platforms through a computer, crypto app, or directly from your crypto wallet.
How to Choose the Best Altcoin Trading Platform for You?
---
According to different sources, there are currently more than 300 altcoin exchanges in the world, and picking out the right one is no easy task.
When choosing the best altcoin crypto exchange for your needs, here are some of the factors you should consider:
Fees – Make sure the trading, deposit, and withdrawal fees are in line with the industry average. 
Security – The security measures should be top-notch considering the increasing number of hacking attempts in recent years.
Easy-to-use – The platform you choose should be user-friendly and easy to navigate through, especially if you are a beginner.
Supported altcoins – Always check the list of supported altcoins to make sure the one you want to buy is available on the platform.
Advanced tools – Having access to advanced tools can streamline your trading experience, this is very important to experienced investors.
Regulation – It's important that the exchange is regulated by multiple regulatory institutions.
How to Use an Altcoin Exchange
---
Using an altcoin exchange is fairly simple if you follow the right steps.
If it's your first time buying an altcoin, here are the steps that you can follow (the process is generally the same in all altcoin exchanges).
Step 1 – Open up an account on the altcoin exchange you chose
Step 2 – Verify your identity and provide the necessary personal information (phone number, address, name, email address, etc.)
Step 3 – Fund your account through one of the available payment methods (platforms typically include credit/debit cards, bank transfer, wire transfer, PayPal, etc.)
Step 4 – Use a search box to find your desired altcoin and purchase it.
Conclusion
---
Making your first altcoin investment is undoubtedly very exciting – but, you have to do your due diligence and make sure you are using an exchange that suits your trading needs.
No matter if you are looking for an altcoin exchange with a wide range of supported cryptos, extremely low fees, or robust trading features, our list has a little bit of everything.
FAQs
---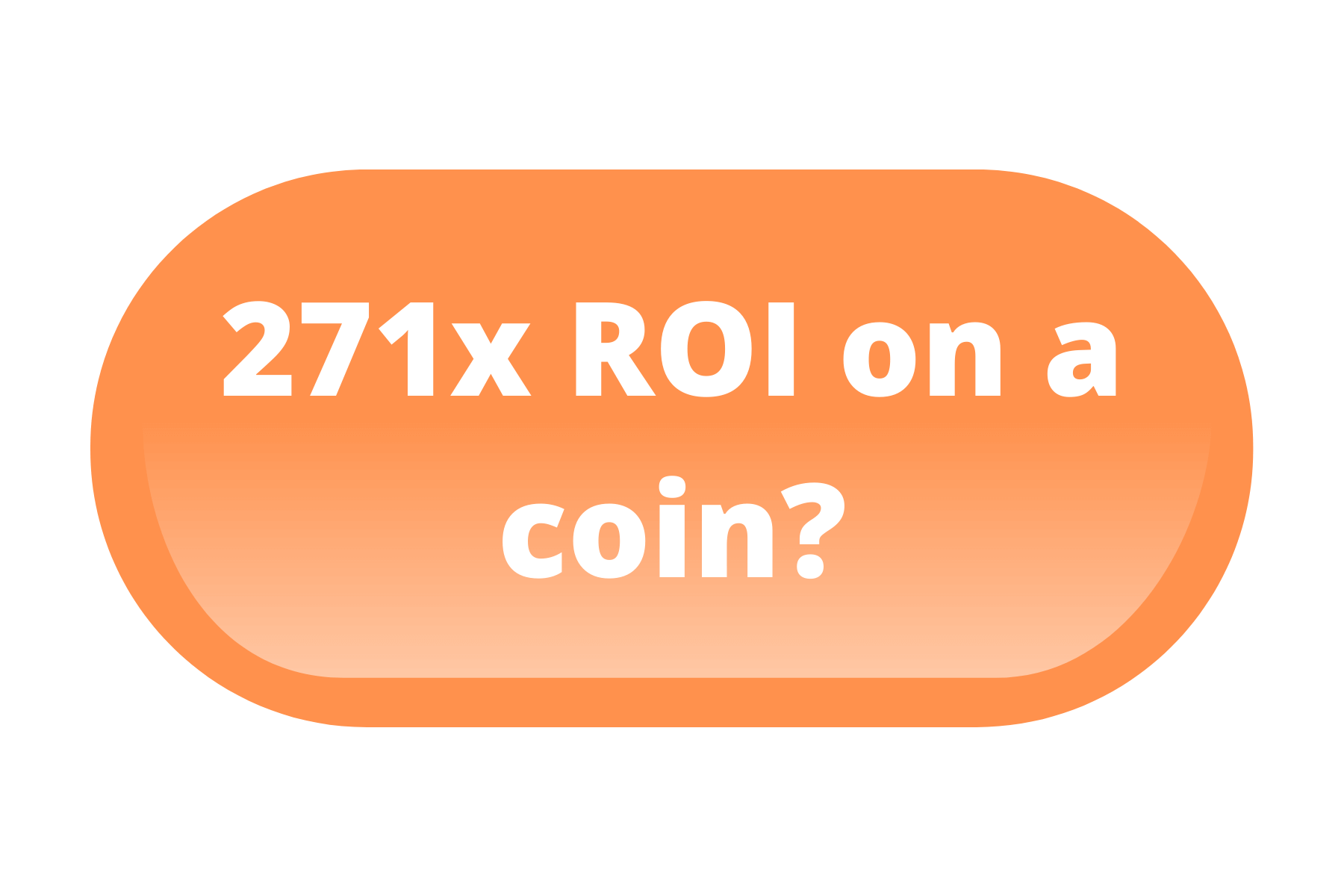 CaptainAltcoin's writers and guest post authors may or may not have a vested interest in any of the mentioned projects and businesses. None of the content on CaptainAltcoin is investment advice nor is it a replacement for advice from a certified financial planner. The views expressed in this article are those of the author and do not necessarily reflect the official policy or position of CaptainAltcoin.com
Source link