There are several aspects of a single and seemingly simple thing in the world of blockchain and cryptoassets. For example, not many know that a blockchain can be both public and private and that an asset can be a regular cryptocurrency or a stablecoin. This had led to multiple and sometimes conflicting definitions of terms like utility token, the metaverse, and NFT.
Another confusing term in the cryptoverse is 'shitcoin'. Many can even ask if meme tokens like Dogecoin and Shiba Inu are shitcoins. By one measure, the two can be, as both have no clear and near-term utility or purpose. However, some people can take the word shitcoin quite literally and consider a not-so-popular asset Ggool a shitcoin.
Today, let us explore the subject of shitcoins and know why Ggool crypto might not have been a typical shitcoin.
What is a shitcoin cryptocurrency?
First, there is one cryptocurrency that goes by the name of Shitcoin with ticker STC. CoinMarketCap, which tracks more than 20,700 cryptoassets, indicates that Shitcoin (STC) has a very low market cap of roughly US$50,000.
That aside, shitcoin is a category, not any particular crypto. One view is that any cryptocurrency that has no immediate utility and the price of which is based on speculation alone with no regard to fundamentals is a shitcoin. The second is that any failed cryptocurrency project, for example, the Squid Game crypto, falls under the shitcoin category.
All cryptos other than Bitcoin are also referred to as altcoins. This means any altcoin can be a shitcoin.
What is Ggool crypto?
Ggool crypto was created nearly one year back as a virtual currency to reward people who used an eco-friendly toilet designed by South Korean professor Cho Jae-weon. It might sound strange but the so-called cryptocurrency, which might not have been based on a blockchain, was awarded in exchange for excrement, which was used to produce biogas and manure.
The set-up was such that a vacuum pump would send faeces to an underground tank, which helped in trimming down water use. It was said that 10 Ggool tokens were rewarded to a person using the toilet. Now, the toilet laboratory has reportedly been shut by authorities, and the Ggool token project has also ended.
Also read: What is The Sandbox Alpha Season 3 & how is SAND crypto faring?
When Buffett slammed Bitcoin
Warren Buffett, who is considered as one of the most influential investors of all time, has said that he would not take "all of the Bitcoin" even for US$25. This is a big statement, which is contrary to views of Bitcoin and cryptocurrency enthusiasts. That said, the price of one Bitcoin is nearly US$21,500 as of writing, as against close to US$47,500 on January 1 this year.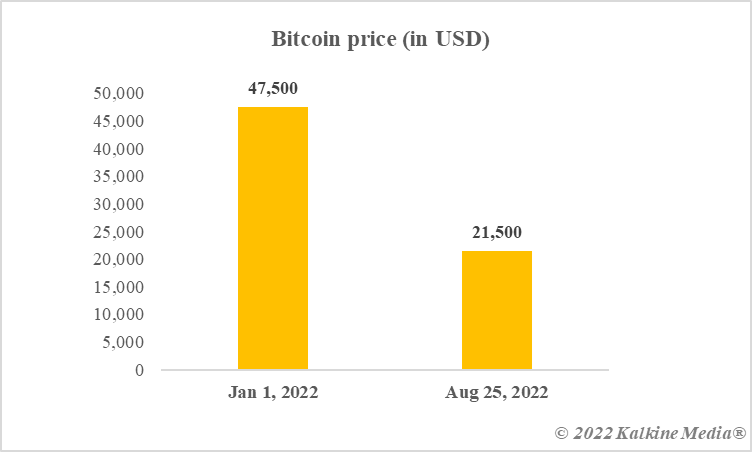 Data provided by CoinMarketCap.com
Bottom line
There is no conclusive definition of the term shitcoin. The most relevant is probably the one that considers those cryptos as shitcoin which have no clear and immediate utility. The Ggool token, which was linked to an eco-friendly toilet laboratory, might have had at least some utility, but the project has now ended.
Risk Disclosure: Trading in cryptocurrencies involves high risks including the risk of losing some, or all, of your investment amount, and may not be suitable for all investors. Prices of cryptocurrencies are extremely volatile and may be affected by external factors such as financial, regulatory, or political events. The laws that apply to crypto products (and how a particular crypto product is regulated) may change. Before deciding to trade in financial instrument or cryptocurrencies you should be fully informed of the risks and costs associated with trading in the financial markets, carefully consider your investment objectives, level of experience, and risk appetite, and seek professional advice where needed. Kalkine Media cannot and does not represent or guarantee that any of the information/data available here is accurate, reliable, current, complete or appropriate for your needs. Kalkine Media will not accept liability for any loss or damage as a result of your trading or your reliance on the information shared on this website.